A flue is a pipe in a chimney for directing gases from a fireplace to outside the home. Fireplaces can be the biggest source of energy consumption when the flue is not used correctly. This usually happens when the flue is left open too wide after the fire has started. Therefore, chimney flue cleaning is very essential to keep your fireplace chimney in a tip-top condition.
Chimney flue cleaning and maintenance is necessary. Over time, creosote and soot can accumulate in your flue. Creosote build-up is flammable and can lead to a fire hazard in your home. Routine chimney maintenance also includes eliminating any debris and birds' nests that may have accumulated in your flue. This debris in your flue can block the release of smoke from your fireplace. This can lead to fire hazards, and increased smoke and carbon monoxide levels in your home.
Preparations to Make before Chimney Flue Cleaning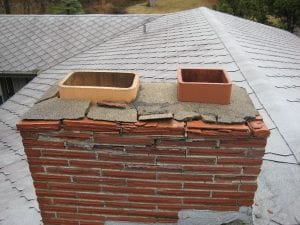 Before cleaning your chimney flue, wear protective clothing, goggles, gloves, and a mask. Likewise, the fireplace should be extinguished before you start. In this way, you can not only make an effective chimney flue cleaning but can also save yourself from dust particles and other allergies. So, it's better to take the precautionary measures first.
The simplest, cleanest, and most effective thing to do is to call a professional chimney sweep. Although it is cheaper to do chimney flue cleaning yourself, it's not safe to do so. These steps below will give you the information to get started.
Check the Chimney for Debris
Before chimney flue cleaning, a thorough chimney flue inspection is necessary. Use a flashlight to examine your chimney flue for any debris that has accumulated. This could include leaves, bird's nest, and paper. Remove that debris carefully. It is the first essential step to take to make your chimney flue cleaning process effective and hassle-free.
Seal off the Fireplace
Before you begin chimney flue cleaning, seal off your fireplace with plastic sheeting and duct tape. This will make sure that soot doesn't get into your home. In this way, you can also protect your home from several other problems which might occur later. You should also cover your furniture to protect it from residue that may enter your home during the cleaning.
Fix a Brush to the Rod
Secure a flexible and long enough rod to reach the whole length of your chimney. If you cannot find a long rod, link together multiple rods to serve the purpose. Fix the brush securely to the rod and lower it gently into the flue. After that, you should raise it slowly through the flu. Repeat the step of lowering and raising the rod as many times as required for proper chimney cleaning.
Vacuum Around Fireplace
Once you have finished the cleaning of your chimney flue, you need to clean up the residue. Vacuum dust from the area around your fireplace to remove soot or other residues that may have gathered during the chimney flue cleaning.
You can clean the chimney flue by two methods. Both of them share most of the previous steps. But they differ in a small fraction as explained below.
Top-down method
The first thing you must do is open the damper above the fireplace and tightly close off the fireplace. Ensure that your fireplace cover is tightly secured in place. Remove the flue cowl and lower the chimney brush, sweeping the inside of the flue. In this way, you can do the chimney flue cleaning effectively.
Bottom-up method
Before you start, remove anything that might be damaged by soot. Open the damper, then push the chimney brush up through the flue.
Chimney flue cleaning should be done by a professional even though you can do it by yourself in some cases. This is mostly because chimney flue cleaning performed by professionals is on a far superior level.
You can avoid messing up and exposing yourself to dangerous soot. Get our help in having your chimney flue cleaning and inspection performed by some of the most experienced professionals in the area. Fill out our contact form or call us right away to get a personalized consultation from our experts.