A fireplace makes any house a home. They are a great addition to any open space, bring warmth on those cold evenings and provide a warm atmosphere for the family to gather around. Many great nights are spent around the fire, so it's best you make sure to find the best one. Let's look at the type of fireplace you are likely to consider for your home.
Wood Burning Fireplace
These are the ones you remember from the movies and those old albums from your grandparents' house. Nothing beats that crackling noise of the fire and the enjoyment of putting another piece of wood in the fireplace. Wood burning fireplaces are usually pre-built into the home and one wouldn't often add these after the house has been built, purely for the amount of hassle associated with constructing this type of fireplace.
Cleaning Wood Burning Fireplaces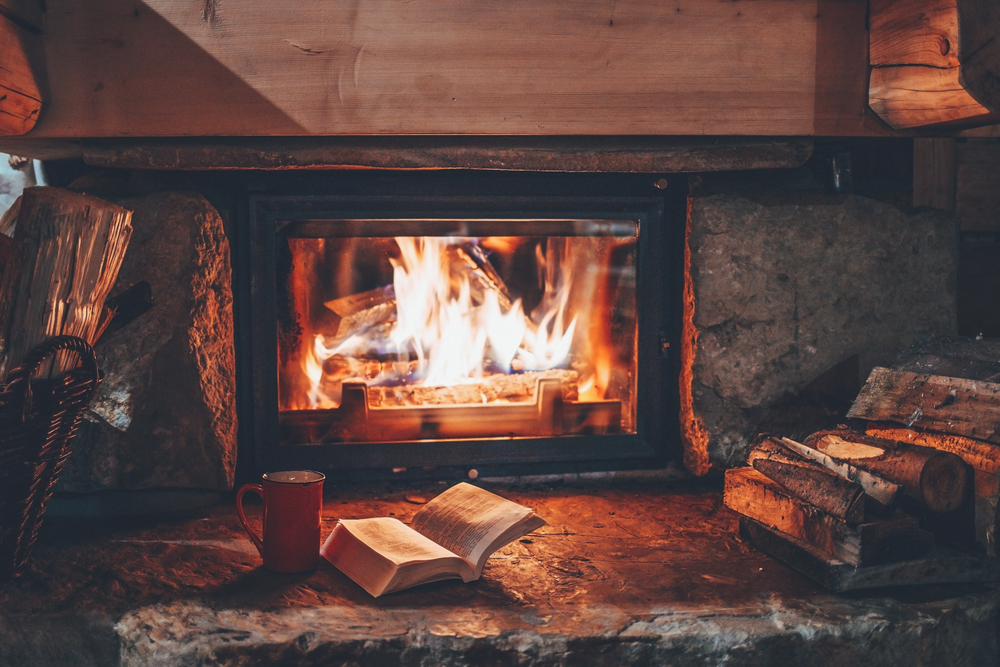 It is important to keep your fireplace cleaning to enjoy it the most. Burning wood releases creosote which can be flammable. It is advisable to remove any build up of this substance to prevent the risk of a house fire. Getting rid of every bit of soot and creosote can be hard to do on your own. It's recommended to get your chimney professionally cleaned at least once a year to prevent dangerous situations.
Ash can be removed from the fireplace with a small scoop or shovel or even just by emptying the ashtray into a bin. Do not use any damp cloths to clean the fireplace as this could cause corrosion on the body of the fireplace.
Cast Iron Fireplaces
Want a fireplace in your home without the hassle of building in a new one? The cast iron fireplace is the perfect solution to warm up your home and keep you smiling all winter long. These units are very sturdy and will retain its heat long after the flames are gone. They usually come with a glass door showing the flames on the inside and the inside of the stove has a metal wall which acts as a reflector, creating a glowing bed of hot coals.
Cleaning Iron Fireplaces
Taking care of your cast iron fireplace will ensure that you get the most mileage out of your unit. First, one should allow the ashes to cool-off completely, so leaving the cleaning until the next morning is a good idea. Most units have an ashtray that can be removed or scoop out the ash with a small shovel or dustpan.
Over time rust and grime will collect on the outside of the stove and it is advisable to clean this by using a wire brush or sandpaper. This will help you get rid of the built-up rust and grime before wiping down the unit with a vinegar solution (two parts water and one part vinegar should do the job).
Lastly, the glass window of the fireplace is likely to become very dirty with the accumulation of soot and smoke. So, use a glass cleaning solution, found at your local hardware store, to clean this window or make your own solution with water, vinegar and soap.
Gas Fireplaces
How about getting the warmth and atmosphere of a traditional fireplace without the mess and hassle? Using a gas fireplace will heat your home with the push of a button.
These fireplaces come with various options such as vented or vent-free and options such as a natural gas or a propane gas; each subject to the home condition and government regulations in your area.
Cleaning Gas Fireplaces
The best part of using a gas fireplace is that it requires minimal cleaning. The vented fireplaces will produce some form of soot, meaning that one would need to have the chimney 'swept' on an annual basis by a professional. However, the vent free option would not require this kind of cleaning.
Electric Fireplaces
The electric fireplace is a great alternative should you have a hearth that can no longer be used or another suitable space where you would like to have a fireplace. This heating device mimics a conventional fireplace but produces the same result without the trouble of a normal fireplace. Turn on the heater with a simple flip of the switch and you're good to go.
Cleaning Electric Fireplaces
One of the great benefits of electric fireplaces is that it almost requires no cleaning. This device only requires a wipe down of the area around the fireplace in order to keep it clean.
Ethanol burning fireplaces
This kind of fireplace uses a burner which runs on fuel, called bioethanol. Units can be used in areas where conventional fireplaces aren't allowed and can be installed with ease. The ethanol fireplace comes in various unique designs and provides instant heat and a real flame. These kinds of fireplaces should be used with caution as ethanol is a highly flammable substance.
Cleaning
One of their main selling points is that they are maintenance free. However, for the sake of longevity, it is best to use some soapy warm water to wipe down the burner and the outside of the fireplace on a regular basis.
Fill out the form below today to learn more about how we can help you clean your chimney professionally to keep you and your home safe.